I'm struggling with what this blog should be. Actually if I'm honest with myself I know what I want this blog to be, but I'm struggling with whether or not it is the professional thing to do. I want a business and I have a business. This is my blog that goes with that business. And hence only business related things should be on the blog. And I should come off as I know everything about business and where I'm going with everything.
But really....
The blogs I like most and read most are about people. The people behind the business, their struggles and their success's. That is honest and that is what is natural for me to blog about. If I try and do anything different that what I feel naturally to blog about I just won't blog. So here we go.
I've spent this week in a bit of a funk. That's ok...I realize funk's happen. The important part is getting out of the funk. The last two night's I've surrounded myself with tons of color and beads. And I found myself drawn to making flowers. As much as I really tried to focus on wine charms flowers are what I was coming up with. I can't wait for the next sunny day to show off these new creations. I've also spent a lot of time reading up on etsy shop marketing and tips and tricks of etsy. It's completely overwhelming. But I've made a list and I'm mentally writing up my about page and thinking of key words to add into different places around the shop. It is forward progress and that feels good.
There are a couple new wine pendants
in the shop
and they are incredible. The violet copper one let me go back to weaving with wire and has opened up some doors that I didn't think would ever open back up. I LOVE wire. I loved weaving it. And I hope ot explore more with this discovery.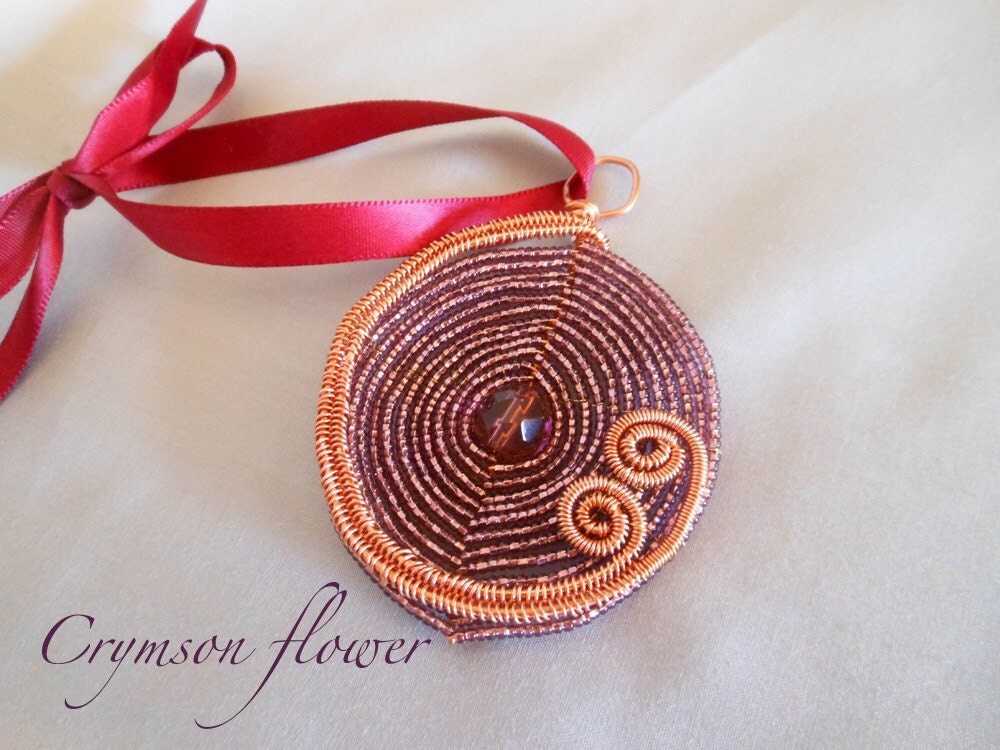 The second wine bottle pendant is subtle in color, but elegant on that wine bottle. The faceted glass beads amongst the wire really sparkle. I mean really sparkle. It's really very pretty.